(b. 1994) Victoria Steel is a contemporary realist fine artist and head instructor of ÀNI Art Academy America. Victoria's artworks can be found in private collections across the United States and have been exhibited within venues in areas such as NYC, Tulsa, and Philadelphia. Most notably, in 2021, her work was featured in the exhibition Women Painting – All Over the World at the MEAM Museu Europeu d'Art Modern in Barcelona, Spain.
Victoria was born in Miami, Florida, but was raised mostly in Northeastern Pennsylvania. Victoria Steel is an alumnus and graduate of Ani Art Academy Waichulis. She now resides in Red Bank, New Jersey, with her artist husband, Kevin Moore.
Victoria Steel has taught various art classes and workshops in and around the area. She has also acted as Gallery Director and Art Consultant at a local contemporary art gallery, during which she maintained two pop-up locations in New York City.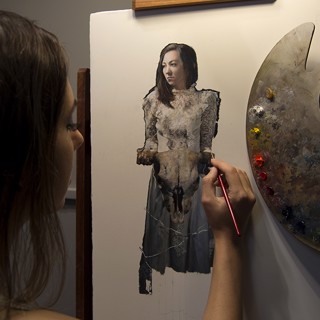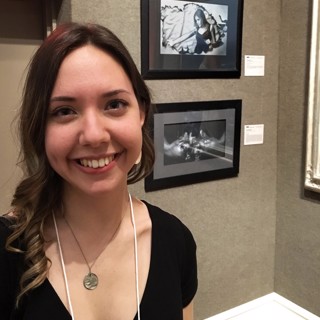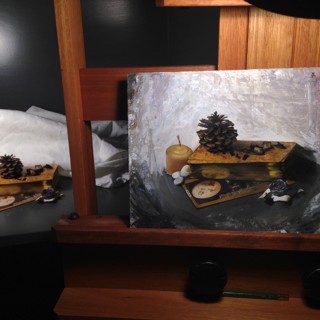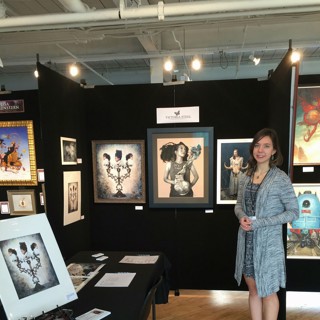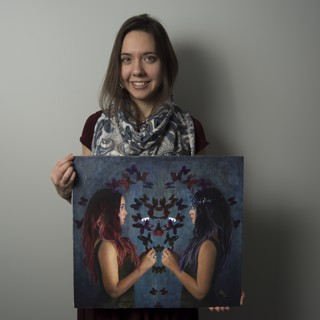 "The passing of time is an awareness I wish the viewer to sense and grasp when viewing my art. In each work, I strive to share a fondness for clouded nostalgia, unknown futures, and the imaginative."
2012- 2017 Ani Art Academy Waichulis
2

023

The Many Faces at Peto

| John F. Peto Studio Museum | Island Heights, NJ

2

023

Women's Exhibition

| Dacia Gallery | NYC, NY

2

023

Where It's Always Sunny

| Lovetts Gallery | Tulsa, OK

2

022

Worlds Apart: A Women's Exhibition

| DETOUR Gallery | Red Bank, NJ

2021

Five and Under

| Arcadia Contemporary | NYC, NY

2021

Women Painting - All Over the World

| MEAM · Museu Europeu d'Art Modern | Barcelona, Spain

2021

Landscapes

| 33 Contemporary | Artsy

2021

Be My Valentine Pop-Up

| 33 Contemporary | Artsy

2021

Radical Botanicals

| Lovetts Gallery | Tulsa, Oklahoma

2020

Neoclassicism

| Haven Gallery | Northport, New York

2020

Small Works

| Lovetts Gallery | Tulsa, Oklahoma

2020

5 x 5" Project

| Abend Gallery | Denver, Colorado

2020

Shakespearean

| Haven Gallery | Northport, New York

2020

Duets

| Lovetts Gallery | Tulsa, Oklahoma

2019

Enigma

| Lovetts Gallery | Tulsa, Oklahoma

2019

5 x 5 Project

| Abend Gallery | Denver, CO

2019

Square Pegs

| Parlor Gallery | Asbury Park, NJ

2019

Music Box IV

| Haven Gallery | Northport, New York

2018

Little Big IV

| Haven Gallery | Northport, New York

2018

28th Annual Holiday Miniatures Show

| Abend Gallery | Denver, Colorado

2018

Rear Window

| Lovetts Gallery | Tulsa, Oklahoma

2018

5 x 5" Project

| Abend Gallery | Denver, Colorado

2018

The Nature Of

| Lovetts Gallery | Tulsa, Oklahoma

2018

Time

|

Haven Gallery | Northport, New York

2018

Imagine

| Rehs Contemporary Gallery Inc. | New York, New York

2018

Clue

| Lovetts Gallery | Tulsa, Oklahoma

2018

Peripheral Glances

| Detour Framing | Red Bank, NJ

2017

The Good, The Bad, The WTF

| Lovetts Gallery |

Tulsa, Oklahoma

2017

IX ARTS / ILLUXCON Main Show

| GoggleWorks | Reading, PA

2017

Capturing Realism

| Misericordia University | Dallas, PA

2017

International Art Renewal Center's Salon Exhibit 2015-2016

| MEAM | Barcelona, Spain

2017

International Art Renewal Center's Salon Exhibit 2015-2016

| Salmagundi Club | NYC

2017

The Red Show

| Lovetts Gallery |

Tulsa, Oklahoma

2016

The Cauldron

| Lovetts Gallery |

Tulsa, Oklahoma

2016

From Near And Far

| AFA Gallery | Scranton, Pennsylvania

2016

Fahrenheit

| Lovetts Gallery |

Tulsa, Oklahoma

2016

Synesthesia

| Rehs Contemporary Gallery Inc. | New York, New York

2016

International Art Renewal Center's Salon Exhibit 2014-2015

| Salmagundi Club | NYC

2015

International Art Renewal Center's Salon Exhibit 2014-2015

| MEAM | Barcelona, Spain

2015

The Birds

| Lovetts Gallery | Tulsa, Oklahoma

2015

Capturing Realism

| Misericordia University | Dallas, PA

2015

Lollipop Guild

| Lovetts Gallery | Tulsa, Oklahoma

2015

Sexes

| Rehs Contemporary Gallery Inc. | New York, New York

2014

Heart of Wires

| Arch Enemy Arts | Philadelphia, PA

2014

Small Works, Big Ideas

| Mainstreet Gallery | Kingston, PA

2014

Heroes, Villians, Myths, & Legends

| Rehs Contemporary Gallery Inc. | New York, New York
11th Annual ARC Salon - First Place Drawing Category Award

2015 Art Renewal Center Scholarship Competition: First Place

2015 Illuxcon Scholarship

2016 Portrait Society's "Art of the Portrait" Conference Scholarship

12th Annual ARC Salon - Finalist & Purchase Award

13th Annual ARC Salon - Finalist Award

14th Annual ARC Salon - Finalist Award

BoldBrush February 2021 - Third Place Award
#44 | The Guide Artists Magazine

2019 Southwest Art Magazine | 21 Under 31

#15 | The Guide Artists Magazine

#14 | The Guide Artists Magazine

Infected by Art | Volume 6

Infected by Art | Volume 3

Strokes of Genius 7: Depth, Dimension + Space
2016

From Near and Far

| AFA Gallery |

Scranton, PA

2021 & 2022 | Exhibitions @ DETOUR Gallery | Red Bank, NJ